After more than four-and-a-half years of being one of its software engineers, I would like to share, with a heavy heart and with a daring soul, that I will be moving on from Kalibrr at the end of the quarter.
Every waking moment of my life working for the company feels like I won in some sort of a lottery. Out of all odds, including many turbulent challenges the pandemic brought to everybody, to this day I still couldn't believe I was fortunate to have spent those years to be a part of the first Filipino company to be accepted in the famed accelerator fund YCombinator, putting ourselves together with other big names in the tech industry, not to mention the very one that was part of the four Filipino companies in the "Top 100 to Watch" list by Forbes Asia.
It has been a great honor being a part of an organization that Paul and Dexter built with such an ambitious mission to uniquely solve the issues of both unemployment and underemployment by matching exceptional people with the careers that they want to pursue. It feels amazing that in some small ways, I helped millions of jobseekers and thousands of companies grow an ecosystem of an engaged workforce.
At the same time, I got to meet an amazing roster of talented people, enabled by a culture that set an exceedingly high bar in terms of what it means to be in a great company. From inspiring product managers, exceptional and multi-faceted software engineers-turned-founders and leaders, to graphic and product designers at the top of their game, I will be forever grateful to have met all of them and have worked with them.

Starting out as the sole Marketing Software Engineer in early 2017, I worked with our marketing team build the story of what makes Kalibrr unique and made the platform closer to our users, from simple things like updating our automated e-mails with relevant job recommendations and wittier subject lines to making the completion of a job application cleaner and feel more celebratory.
To drive in-person signups – and ultimately, jobseeker growth – to the platform during Kalibrr's presence in key events pre-pandemic, we built a signup tool within the platform where attendees can join the platform there and check our platform out when they come back home, eliminating the need for tedious on-booth spreadsheets.
We have also syndicated Kalibrr jobs on LinkedIn, giving users of the latter a taste of what the Kalibrr platform offers while expanding the network reach for recruiters to increase their chance of hiring great people. Here, I have learned a glimpse of how platforms like ours share content with one another (hint: it's XML).
Facilitating migrations to different content management systems was always a major undertaking, and I was able to take on two separate instances of it. It did allow Marketing educate everyone, users and non-users alike, about the challenges of job hunting and recruiting talent better. The most recent attempt of which is the migration to a JAMStack-based system powered by Ghost and GatsbyJS, which allowed the blogs to be more SEO friendly and more performant while saving overall costs because the pages are statically compiled. It also delivered Indonesia-specific feeds for jobseeker and recruiter blogs, which helps Kalibrr be more locally aware.
By being a member of the SME squad, I also became a part of a team of engineers and designers in-charge of the company's experimental pay-per-hire success-based business model. This involved adapting key areas of the platform to make it more accessible to small and medium enterprises in the country. It was enlightening that a success-based business model for other businesses was such an inspiring idea: "we only win if our customers win".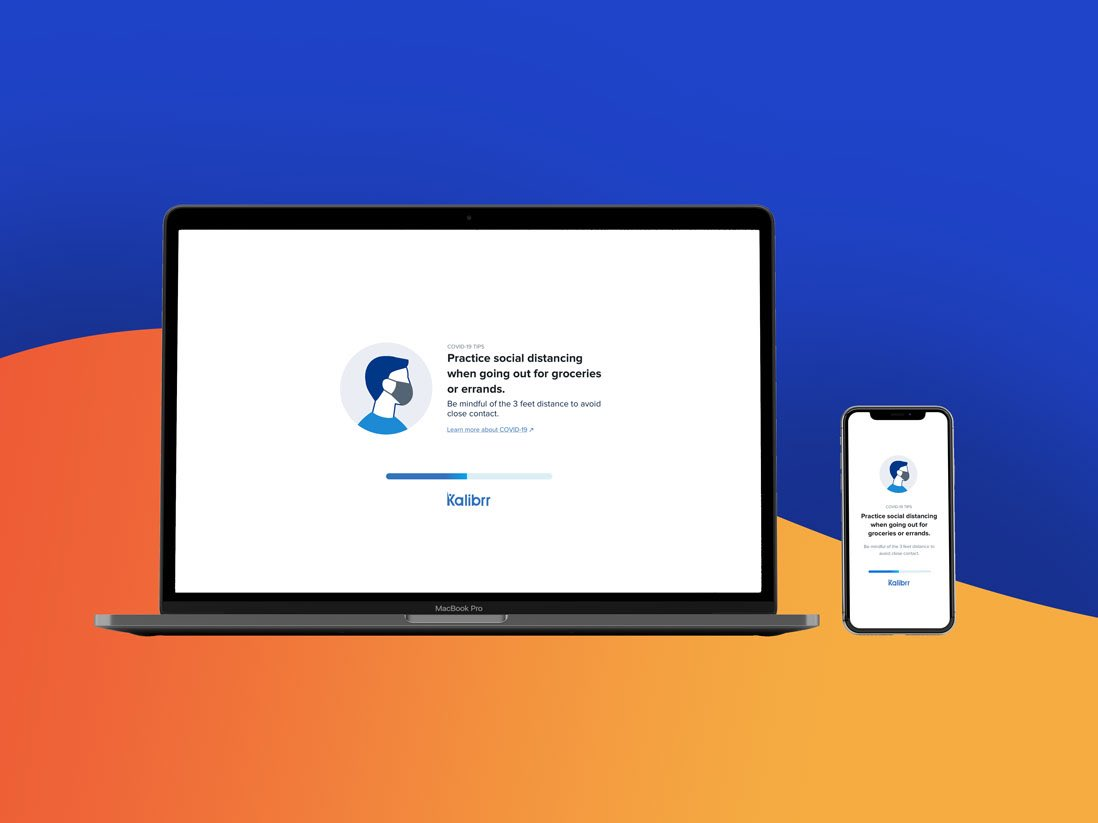 More recently, to quickly adapt to the oft-mentioned-but-severely-understated "challenging times", we made moves to highlight remote work in the platform to offer relevant tips for job-hunting during the pandemic, including refreshing the platform's loading screen. With this, we hope that even in one of the most mundane parts of the platform, we can still deliver a valuable experience for our users.
The loading screen is beyond mundane, however: in a sea of legacy AngularJS technologies in some areas of our web app, we pioneered the use of the emerging web components standard on the platform using StencilJS, with the initial expectation that a system-level component like this may be shared across a diverse range of web apps.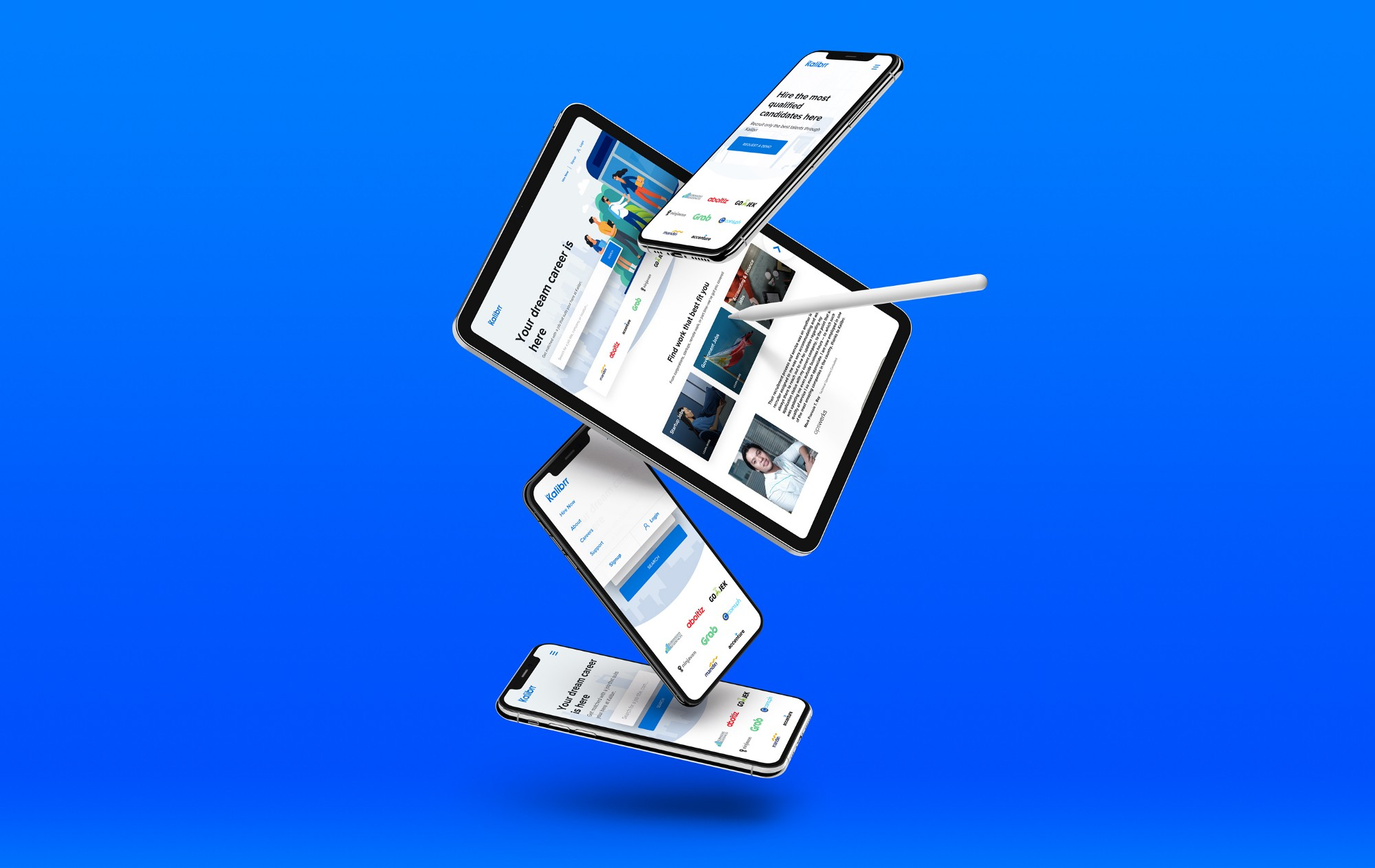 The most visible thing I have done, however, is the work that I did with an amazing team of people that led to the creation of what is now the kalibrr.com homepage, arguably one of the most attractive job matching platform landing pages around. The new homepages were among the first ones to be modernized and moved to Angular, which made it significantly faster. For more insights on how we arrived in this design, Riel, our designer, wrote a case study about it.
Lastly, as part of our continuing modernization efforts this year, we are set to launch a refreshed public job board experience soon, which was rebuilt from the ground up. It is powered by a symphony of modern frontend technologies such as NextJS and TailwindCSS, kicking off the use of our design system that sets order to the platform's visual identity, as well as bringing better performance both in use and in search engine visibility.
As we forge a new road ahead to accept a new and ambitiously more challenging role, I'm confident that with the things I've seen in progress within Kalibrr to be revealed, the team I'm leaving behind will make more profound changes that will help more people reach their dream careers, just as the platform did on mine.
I will always root for its continued success. 💙